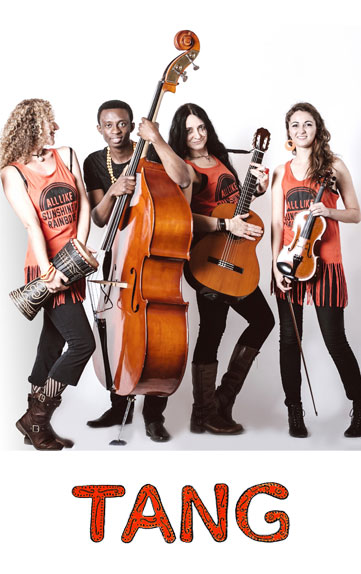 TANG
"The flavour of Afrofrazz"
TANG uses the collaborative talents of various Artists to infuse South African Music with a World sound.
With original songs by Jolanta Durno, in Spanish, Russian, Polish, French & English, to covers in Mexican, Portuguese & Sanskrit, TANG provides a cultural celebration unlike any other.
For a distinctive, vibrant experience that awakens the senses, TANG are the taste of the season!
TANG draws on the elements of linguistic musically & theatrical expression to celebrate the joy of life!
AmaeshiIkechi (Double Bass), Courtney Ward (Didgeridoo & Percussion), Natasha Coertze (Violin) & Jolanta Durno (Guitar & Vocals).